In the first of three exclusive features with Karen Brookes, director of people and infrastructure, and member of the Board at Sir Robert McAlpine, we detail the construction landscape for the 153-year-old business in a post-COVID era, why sustainability is dictating talent solutions and how its partnership with the Morson Group is crucial to capturing market advantage.
Restoring an icon
"Hearing the bells of Big Ben chime at midnight each New Year's Eve is such an iconic moment – it's a huge symbol across the world, just like the fireworks at the Sydney Opera House and the ball drop in Times Square," says Karen. Referring to Sir Robert McAlpine's extensive specialist restoration work of the Elizabeth Tower as part of a parliamentary investment.
"We're best known in residential, education, retail, healthcare and commercial sectors, so it's actually a fairly new market position for us to be undertaking such intricate stonemasonry. We've had to recreate a 'grotesque' (a sculpture that juts out of the building in a similar fashion to a gargoyle, except that it doesn't spout rain water) and slot it back into place perfectly. All while ensuring we're preserving a building that is hundreds of years old – it's new territory."
"Our Special Projects division is now recognised as one of the leading contractors in the field and is listed on the Crown Commercial Service framework. That comes down to our ability to attract the right talent to complete jobs to such a high standard. Buildings like the Elizabeth Tower and the Royal Albert Hall are national treasures, and there's a lot to do to ensure they remain in pristine condition and retain that heritage status for a long time to come. Having the right people in our team is crucial to whether or not we can successfully achieve this."
Specialist project work is just one string of many on the bow of Sir Robert McAlpine. A tier one contractor, it's playing a vital role in many governmental investments and private contracts to elevate the country's infrastructure and sustainability as we emerge from the pandemic. And according to Karen, even the sectors which were predicted a downturn have begun bouncing back.
Workspaces for the future
"We're always going to need schools and hospitals and private ventures like hotels and housing. Many thought COVID might be the death of the office space, it certainly hasn't been," she says. "People like collaboration, and going into work allows a demarcation between the start and end of the day, which isn't always easy to achieve at home."
Throughout the pandemic, Sir Robert McAlpine adapted its usual work in the healthcare field. They developed pop-up facilities for hospitals requiring additional space for extra beds. Working in collaboration with other contractors in the UK to ensure the NHS was adequately supported demonstrates the company's dedication to social value. Building for purpose is now hugely important for its workforce and potential new candidates.
"More so than ever, people want their roles to involve contributing to society," Karen says. "And it's important for us to work that element into our parent projects. Sustainability, an ethical supply chain or offering teams the chance to give back to their communities matters to people. It's great that they bring that mindset to the workplace because it promotes change."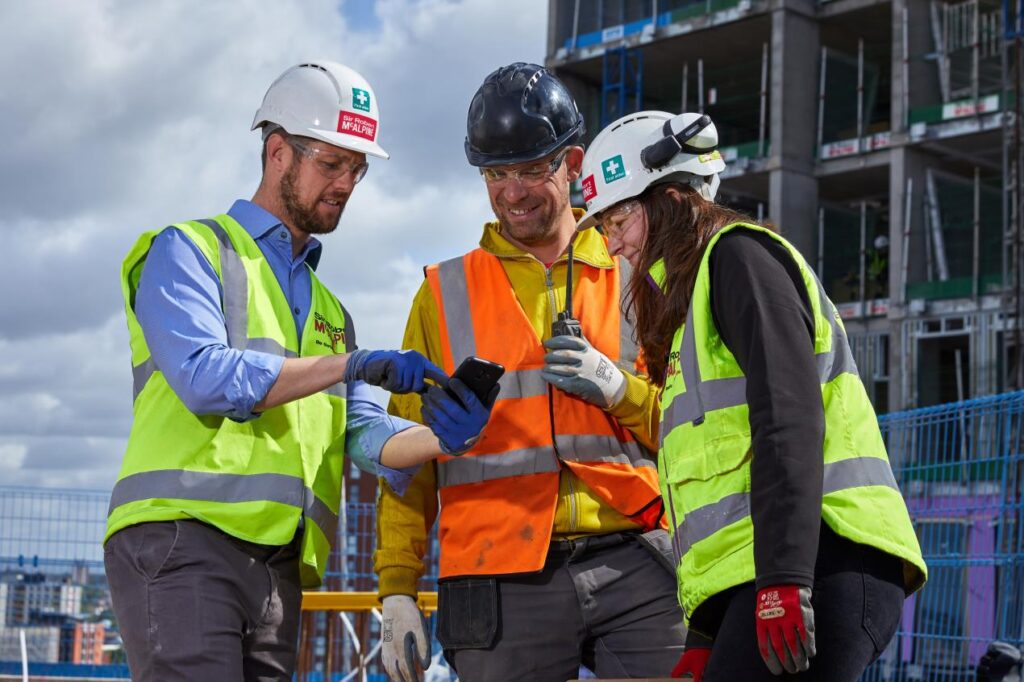 Sustainability
"Sustainability is so huge for us. Many buildings we're working on centre on repurposing what's already there, which isn't carbon neutral, and turning it into something environmentally friendly. Carbon neutrality has become a major influence in construction – but finding the skills and capability to deliver it isn't easy. They're highly sought after and there's a war for talent, particularly in areas like sustainability. There are organisations that are doubling or trebling salaries to attract people, but our proposition as an employer runs deeper than that."
"We're achieving our sustainability targets by working with partners who share our ethos, from Morson as our talent expert through to our building materials suppliers. We only work with those who align with our thinking. It's not about building the cheapest building, but about creating one with social purpose and value, one which has a positive impact."
"It's important to ensure we're hiring people in the locality of our projects. Contractors shouldn't be travelling miles and miles each day to reach the site – because that's unsustainable in itself."
With that approach comes an acceptance that Sir Robert McAlpine might always operate within certain financial parameters.
"We're a family-focused business – there are fifth-generation family members on our Board – which remains our priority over growing exponentially," Karen said. "We're always going to be assessing our margins and considering if we can expand into new sectors – that's basic business sense – but we're at around £1bn turnover and happy to stay there, because we want to remain selective about our projects. We've just taken on a project in Nottingham repurposing a mental health facility, which will have a real benefit to the community. We want to walk away from projects knowing we made a difference, rather than thinking about whether that brings us closer to targets."
Talent partnership
Sir Robert McAlpine has had a managed service (MSP) in place with Morson for 4 years. Karen places the company's ability to continue moving forward in the market on the tight-knit relationship between the two businesses.
"Sometimes it's difficult to identify where Sir Robert McAlpine ends and Morson begins because we're very much dovetailed together. They come to us proactively to discuss what's happening in the industry. We brainstorm together how we're going to respond, what could become a challenge for us. Whether it's something that might impact our ability to hire engineers, for example, or where a competitor might take market share from us. We look for opportunities, like launching specialist talent schemes to tap into new candidate markets, together."
"The data insights from Morson also mean we're able to benchmark things like salaries and employee benefits compared to our competitors. So we can see whether we need to adapt to remain competitive when it comes to talent. That level of insight is invaluable."
Targets
"We have an array of targets in place from the number of quality CVs received and hire time turnaround, as well as longer-term retention rates and cost savings. Everything is updated to dashboards regularly and reported monthly, if not more often. While targets are important, we take a top-line view of what's happening. If we're struggling to recruit for a role, is this a wider industry issue at the moment? Is the language we're using engaging to the audience we're targeting? Are we offering a salary and benefits that are appealing? We have those open discussions with Morson, and then, we tweak the brief and assess how those changes take effect."
Commenting on Sir Robert McAlpine and Morson's partnership, it's clear Karen sees it as crucial to the business's success for years to come.
"Over the years, our relationship has grown organically and that's because Morson understands the industry, our business and the importance of sustainability. I can't imagine working with a better-placed partner when it comes to knowledge and insight."
"You have to enjoy your relationship with your talent partner. It has to be easy, and in many ways, they have to see your business's potential before you see it yourselves. That's exactly what Morson brings to our business – a client-focused partnership, working hand-in-glove to make us even more effective against the challenges we face, and in light of the opportunities they identify for us."
​If you would like to find out more about our MSP solution and how we can help your organisation cost save, continuously improve, and transform through talent, get in touch with Morson MSP director, David Lynchehaun at David.Lynchehauhn@morson.com