In our final feature with Sir Robert McAlpine's Karen Brookes, director of people and infrastructure and member of the Board, we delve into the company's drive for more diverse recruitment, Karen's eclectic career background and the wheels that are in motion for Sir Robert McAlpine to pursue industry change.
Recruiting a diverse and inclusive workforce
"Something we're extremely proud of is that in the last 12 months, we've developed a consultative employee network, made up of elected members, who act within affinity groups to ensure our organisation is truly diverse and inclusive because this is such a key area for us right now".
"We're using specialist recruitment techniques with Morson to bring a more diverse workforce into our organisation. These affinity groups oversee trends and challenges in areas like ESG, BAME, LGBTQ+ and working families. They each come from different backgrounds so bring various perspectives to the table to ensure we're offering as much support to everyone within our business as possible. They'll identify if our policies offer the same standards to both men and women, for example. They spot if certain groups in the organisation need extra training to put them on a level playing field with their peers."
As part of Sir Robert McAlpine's MSP with Morson, the company benefits from a wealth of recruitment technologies and support. Which are integral to ensuring it appeals to a diverse pool of talent.
"Using Morson's resourcing teams, we ensure we're wording job adverts correctly to be suitable for people of all genders, ethnicities and abilities. We also send quarterly EDI questionnaires to identify challenges and opportunities within the recruitment process. Morson has begun rolling out exit questionnaires, which deliver a new dimension of insight.
"Every business working in the sector has a duty to ensure they are working to make their recruitment policies more diverse and inclusive. There is still a lot of work to be done."
Karen's journey
In 2017, Karen became the first ever female Board member at Sir Robert McAlpine at the age of 53. Prior to this, her career had been what she herself describes as eclectic.
"I grew up in a working-class family," she says, "I didn't want to go to university, so I did my A-Levels and was married by 19. I had my children when I was still very young, having worked for a medical pharmaceutical company and then moved to a golf bag manufacturer. Balancing that with doing the bookkeeping for my husband's business was a challenge. We owned fruit, veg, fish and floristry shops, but the businesses weren't doing too well.
"I took a temporary job in my uncle's builders merchants' yard but saw an advert for a job in the furnishing and carpets division of ASDA. It was a six-month temporary role, but shortly after starting they offered me a permanent job in personnel. I thoroughly enjoyed it, and over the next six years, they supported me through additional qualifications in personnel management.
"Next, I joined a company which ran sales contracts for three-quarters of the UK on behalf of Yellow Pages. There my job involved comparing policies and employment contracts, salaries and benefits to fuse the two companies together. The job took me around the country and my children came with me wherever I went. Being a single parent and working as head of HR was a challenge, but I never looked back and worked my way through everything. But eventually, it was time for a change.
"I took a Board job with AMEC which was a completely different role; my previous job had been completely sales-focused, but was a very emotionally intelligent business. This was much more intellectually intelligent, with data-led work dealing with some extremely clever individuals. So during the four years I was there I learnt a lot of very valuable lessons – including that if you're dealing with people, you have to think about how you're making a person feel. Data can tell you what's happened, but you don't always know why. This is particularly important when it comes to diverse recruitment – the numbers can only tell you so much."
Partnering with Morson
It was during her role with AMEC that Karen first came across Morson, who fulfilled a contract sourcing some of the niche skillsets the company required.
"Morson impressed me from the first day. We had a strong partnership, they were an open book and extremely positive. I knew I wanted to carry that relationship forward wherever I went. I moved into another board role with the Cabinet Office, then I joined WYG – now part of consulting and engineering firm Tetra Tech – as director of people and infrastructure. At WYG there was one person overseeing recruitment. It was a similar size organisation to AMEC – around 2,500 employees – so I decided to bring Morson in. Morson isn't a business you do a single project with; they get it right, so you always go back. They knew what we needed to do to achieve our wider organisational ambitions, and by outsourcing, we reduced our overall costs. Plus, we needed niche skillsets and that is Morson's specialism."
"The job centred on a diverse range of people and their recruitment experience," Karen says. "You have to consider the environment they're working in, the tools they need to do the job. Do they have opportunities to progress? What was their experience like joining the business? What would it be like if they left us? The ultimate aim is to ensure that everyone has a positive experience, even if they leave. That was my final job before I joined Sir Robert McAlpine.
"So, this probably sounds quite eclectic, but I decided early on in my career that I wanted to work across many different sectors. I anticipated that I'd want to become a consultant and I wanted that rounded experience. Plus, working in so many fields keeps me switched on and I enjoy variety."
Experiencing gender bias
In a typically male-dominated industry, has Karen experienced gender bias? Yes, she says, and she has advice for other women who might go through the same challenge.
"I've worked in distribution factories, in massively unionised businesses, in merchant yards and warehouses – of course I've experienced gender bias. This is another reason why I have always been so keen to try new roles. No one can tell me I don't know what I'm talking about, but I don't act affronted when it happens. I'm firm and fair and make it clear I can work together with someone for a greater outcome. Whether that's a better product, service or policy, rather than at loggerheads which is no good for anyone.
"If, as a woman, you experience gender bias and you feel comfortable enough to call it out, then do. If you don't, take a breather and walk away. At a later point, speak to that individual on a one-to-one basis and ask, 'do you know how that made me feel, is that what you intended?'. Most of the time they're not aware – not many people deliberately embarrass others – using this approach they learn something. And of course, that applies to everything – any form of discrimination or bias. The more we all call it out, the less likely it is to remain in the discourse of an organisation.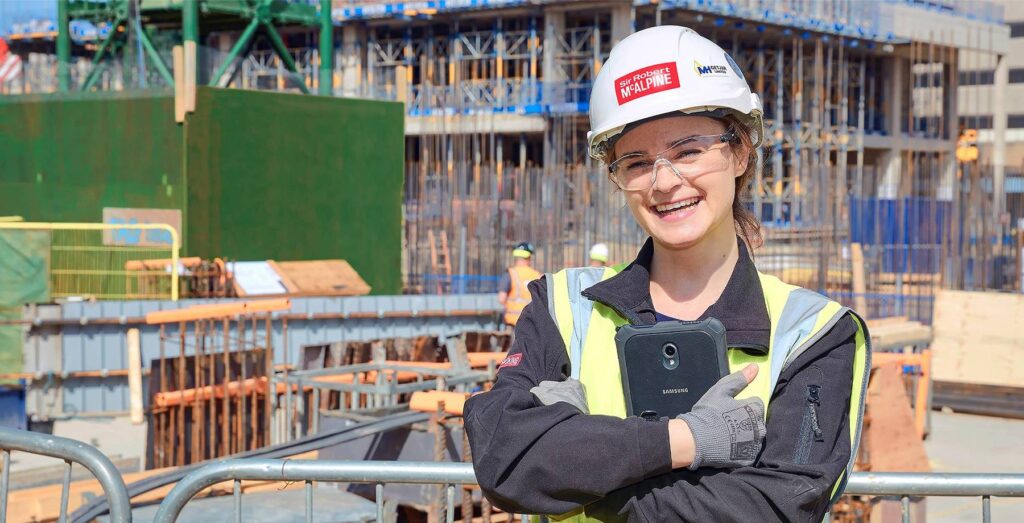 Improving inclusivity
"Our affinity groups ensure we're always thinking, always having conversations and looking at how we can progress in ED&I. A colleague once told me that during her first ever time on a construction site, there was no female toilet. Today, sites have specific toilets for male, female and trans colleagues. We take it for granted now, but that's only due to the hard work of people pushing for change in the past."
Today, Karen uses her extensive experience in construction to support others progressing through the industry. She wants the upcoming generation of talent to be equipped with the skills, values and ethos to be able to create an inclusive future for everyone.
"My role as a mentor is to encourage my mentees to set their own agenda. What is important to them, what do they want to learn from me that will help them progress? Yes, it's a two-way conversation but it's very much about them and what they need to get out of it. But really, I want everyone to focus on bigger picture strategy; not the ins and outs of their day jobs. How does our organisation fits into our crowded sector, what do we need to do to challenge norms? We want to become the go-to for people looking for a job that's more about purpose than profit.
"With Morson, I'm confident that we can attract the right people and become known for all the fantastic opportunities we offer to candidates outside of their job description."
We understand the complexities and opportunities of widening participation and take our commitment to this very seriously. Our EDI consultancy is designed to help clients attract diverse talent into their organisation and improve/create inclusive cultures and identify barriers to inclusion in the recruitment process. Visit our EDI consultancy page to find out more.