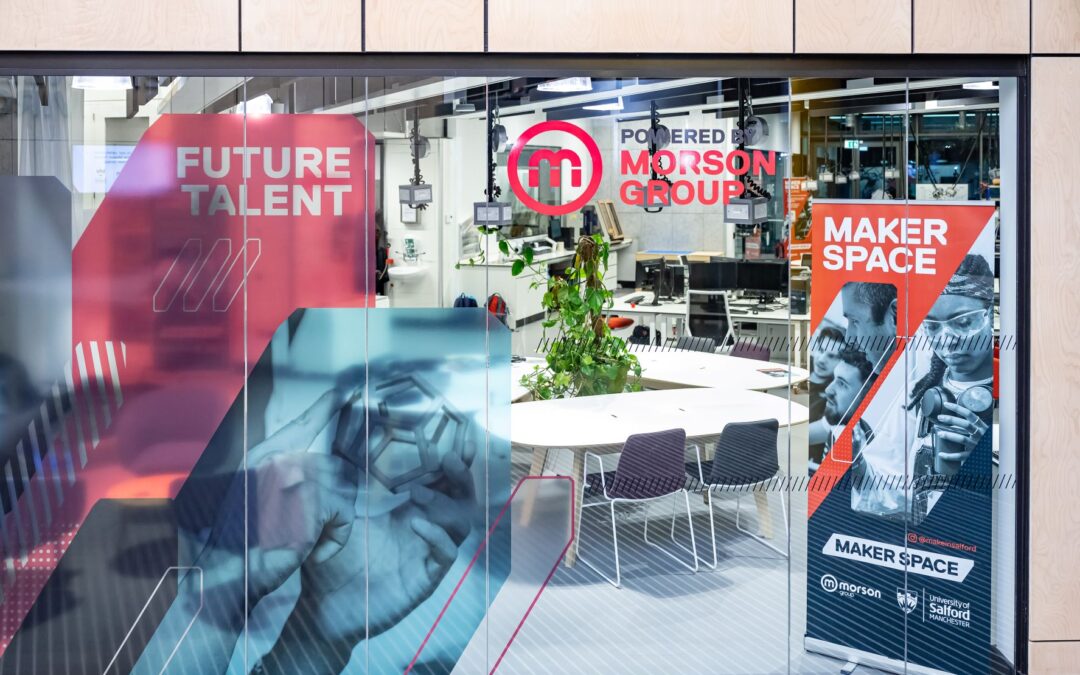 Morson Group has set a benchmark for big business involvement in the north's levelling up agenda by funding a new STEM centre (Science, Technology, Engineering & Maths) and multiple scholarships at the University of Salford.
Opening to students for the first time this term, the new state-of-the-art Morson Maker Space facility is part of a long-standing commitment by Morson Group, and the family who established the business back in 1969, to give back to their local community in the North West and create opportunities for young people who might otherwise be held back by social deprivation.
A c.£1billion turnover recruitment and engineering design business headquartered in Eccles, Salford, Morson Group was established by Gerry Mason, who defied humble beginnings to build the successful, international company. The business and the Mason family are the main financial backers for the Morson Group STEM Foundation at the University of Salford, which forms part of the University's new £65million Science, Engineering & Environment Building. The STEM centre facilities have been designed to provide students with opportunities to explore new ideas and innovate, gaining hands-on experience of the types of equipment they can expect to use when they move from education into the workplace.
ITN BUSINESS FEATURE WITH MORSON
The Morson STEM Foundation: Securing opportunities for future generations from Morson on Vimeo.
Funding for the Morson Group STEM Foundation is the latest in a number of initiatives from Morson and the Mason family aimed at financially supporting young people from underprivileged backgrounds.
Nineteen of England's 20 most deprived neighbourhoods are in the north*, with Salford appearing in that top 20 list. Morson Group is adopting a pioneering approach to addressing the issue while connecting businesses with the future skills and talent needed in growth sectors. The Gerry Mason Engineering Scholarship was established in 2015, in memory of Gerry Mason; a design engineer and the founder of Morson Group, and the Morson Group Scholarship was launched in 2019, to support students completing an engineering or technology degree, respectively. The 50th local scholar was able to gain access to higher education at the University of Salford this year thanks to these scholarships.
Ged Mason OBE, CEO of Morson Group, commented:
"Having grown up in Salford and proudly rooting our HQ in the city, which has supported local talent for more than 50 years, we are passionate about generating opportunities for people locally. Our involvement in the STEM Foundation and scholarship programmes delivers on a long-established commitment to generate opportunity and nurture talent in Salford and demonstrates the role that our business can play.

"As recruiters, we know that companies desperately need a pipeline of new skills from young people who can combine fresh thinking with real-world experience of STEM disciplines and the technologies used in today's workplaces. Levelling up must connect the need for improved outcomes and aspirations with demand for world-class skills and ambition. That's why we're working with the University of Salford – it's an investment in young people's future, the future of British business and a future UK where there is opportunity for all."

The University of Salford held a special event to thank Morson Group and the Mason family for their contribution on 12th October, welcoming representatives from the company, the university, local commercial partners and students to tour the facilities. Amongst the guests were many of the students and graduates who have benefitted from the Gerry Mason Engineering Scholarship and the Morson Group Scholarship. Delegates were able to find out more about the opportunities the Morson Group STEM Foundation will provide for interdisciplinary collaboration and commercial projects involving student R&D.

The facilities include a wide range of industrial machines and equipment for use by students from across the University of Salford, which will enable businesses to engage with the university and students in new ways, thereby creating opportunities for employment, training and exciting new projects.

Dr Maria Stukoff, Maker Space Director from the University of Salford, added:
"It has been wonderful to welcome back students for the new academic year with this fantastic new Morson Maker Space facility, which offers them the freedom to explore their ideas and learn valuable, practical skills.

"The Mason family and Morson Group's generosity will not only be celebrated at this event, but for years to come by generations of students who will benefit from the success of a local company that has given back to the Salford community in such a tangible and lasting way."
Morson Group, together with the University of Salford, is also co-funding IntoUniversity's new learning centre at the Beacon Centre in central Salford, which will work in the heart of the local community to support young people aged 7 to 18.

In central Salford, more than half of young people are growing up in poverty, which has long-lasting effects on educational attainment**. The new IntoUniversity centre, which opens this autumn, will support young people from disadvantaged neighbourhoods in achieving their goals for higher education, employment, and work-based training, whilst also working closely with schools and local families to sow the seeds of aspiration at a young age.


*The English Indices of Deprivation report, compiled by the Ministry of Housing, Communities and Local Government
**End Child Poverty, 2019